HMS Global Depository Receipts
Global equities had a strong start of 2012, mainly on the back of liquidity injection from long-term refinancing operation, the European Central Bank's mechanism for providing financing and maintain liquidity cushion to Eurozone banks and the Fed's policy stance of 'at zero for longer', keeping short-term interest rates at record lows in order to stimulate spending and support assets prices.
Russia followed suit. After the set back at the end of 2011 in light of the post-Duma elections protest rallies, Russian equities enjoyed a strong catch-up, peaking at a positive 28% YTD return of the MSCI Russia index (Russia's strongest YTD gain since 2000) by the end of March. HMS Group GDRs enjoyed investor's risk appetite increase and grew by 22% in Q1 2012.
Despite generally strong oil prices during the whole H1 2012, a negative scenario for HMS and Russian equities materialised since the middle of April. The European sovereign debt situation turned more perilous, shaping risk sentiment. The elections in Greece, the suffering Spanish banking sector, the ongoing discussion between Germany and the EU over the bailout mechanism as well as the global economy decelerating due to issues in EU economy balancing on the edge of recession, weaker growth in China and US turned into major headwinds in 2Q12. Following the strong performance of Russian equities in Q1 2012, the second quarter appeared to be weaker. HMS shares lost 10.5%, while MSCI Russia index declined by 14.7%
The pattern in the second half of the year varied from the first six months significantly. In 2012, according to EPFR datasets, Russia-dedicated funds experiences USD 583mn of inflows in 1H12 and USD 383mn of outflows in 2H12 due to generally negative investor's attitude to Russia. These outflows couldn't help but affected small cap stocks performance.
Following the acquisitions made in early July, which resulted in debt increase and SnP's corporate rating reduction to B+, HMS shares nosedived for three weeks as there were increasing concerns over the Group's ability to grow the business of the acquired assets fast enough to justify the price HMS Group paid for M&As. However, the share price bounced back by the end of July following the wide efforts to communicate the strategy of the new assets. As a result, in Q3 HMS share performance was flattish, just 0.6% QoQ weaker by the end of the 3rd quarter, while MSCI Russia gained 9% in Q3.
The fourth quarter was the worse from the stock performance standpoint. Despite improved financial performance of 3Q12 and EBITDA growth of 41% QoQ in 3Q12, HMS shares lost 12% versus flattish performance of MSCI Russia Index.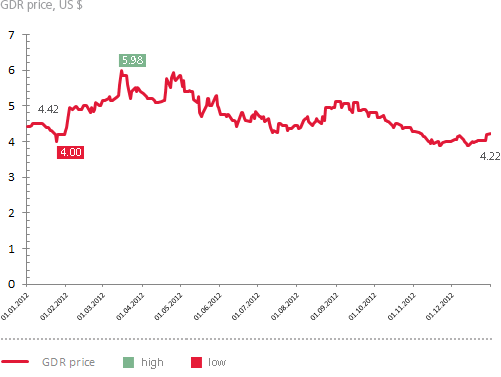 | Information on HMS Group Plc GDRs: | |
| --- | --- |
| Ticker | HMSG |
| CUSIP | 40425X209 |
| Exchange | London Stock Exchange |
| ISIN | US40425X2099 |
| Ratio, GDR : common shares | 1:1 |
| Effective Date | Feb 11, 2011 |
| Underlying ISIN | CY0094Q01570 |
| Depositary bank | BNY Melon |